November 02, 2019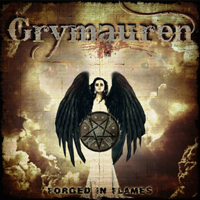 Twisted from side to side, the verse of Written In Blood song begins with a restrained drive, lifting up the majestic banners of the triumph of melodism in instrumental bridges and choruses, starting the Grymauren - Forged In Flames album with such a bewitching unity of contrasts.
Taking off with the sparkling phoenix of swift drive, Inhuman Nature then complements the music with the charm of a keyboard symphony, which comes to the forefront of the musical image in the instrumental part. Raising the musical canvas of the A New Creature medieval knightly saga, dancing in the whirlwinds of a discreet drive and transforming into a pensive anthem in instrumental bridges and choruses.
Weaving the mesmerizing motifs of medieval sagas and bardic tunes in a single musical stream Conquer The Night envelops in the veils of romanticism and legends about invincible heroes. Keyboard passages of the Voice Inside introduction comes to the forefront of the musical image, but the introduction of vocals somewhat accelerates the mid-tempo composition, intertwining vocal phrases with guitar riffs.
But the knights blacken their image, turning to darkness and chasing in the swift Return To Darkness intro for invisible temptations, but the vocal part marches in the pulsating waves of a gloomy drive. A soft, gentle and thoughtful minstrel saga Revelations completes the album with the charm of a bewitching instrumental ballad that envelops the listener with the tales of ancient tales and legends.