July 17, 2018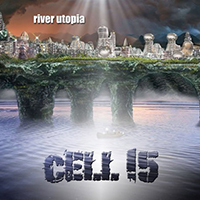 Electronic futuristic moments creates a Street Lights progressive mood, beginning the Cell15 - River Utopia album with the mysterious artistry of electronic impulses. Vocal mysteriously and playfully introduces vague artistic elements, bringing a considerable influence of acting and mysterious omens.
The oppressive mysterious atmosphere of the mysterious entry anticipates the Castle Walls atmosphere, which develops in the artistic dance of enchanting motives, developing in an epic lap and anticipating unknown prophecies. The incredible artistry of development of the great ballad main motive should be noted.
The raucous rain and meditative melody anticipates the development of The Junket epic saga, which rests on a tender melody and enchants the mind and feelings with its sound. A wave of romantic experiences envelops the atmosphere of thoughtful reflection, the vocals complement the sound of Revolution of Soul note of blues, keyboard passages are hovering over the musical canvas with majestic clouds of enchanting inspiration.
Looking Glass continues the progressive mood of the album, first compacting and hardening the sound of the introduction, then the vocals dissipate the thickened gloom and develops a romantic mood. In the instrumental part, the composition envelops the mind with epic motifs of fairy-tale memories, capturing the mind into captivity of magical annals and unsurpassed ancient legends.
The title track River Utopia ends the album - Developing a progressive sound in a variety of shades, moving away in the direction of the cautious impressions of gloomy mysticism. After the slow development of musical elements in a significant introduction, the vocal is carefully casts into the composition structure.