July 18, 2018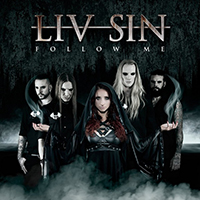 A violent and destructive wave of drive sweeps feelings and emotions in the dark whirlwind of The Fall intro. In verses, the vocal gathers streams of thoughts, weaving mysterious laces from them, directing them in a single stream. The instrumental part of the first Liv Sin - Follow Me album track is preceded by a dark haze of mysterious predictions.
The next composition Hypocrite is enveloping with the fog of the mystical dusk, enveloping by mysterious reflections and prefacing the choruses with significant tales. But in the chorus the narrator calls to follow him - as the only way to know about the dangers ahead. Guitar solo in the instrumental part extends the stylistic framework, invoking the influence of ancient elements.
The next composition Let Me Out begins with an appeal to the will and freedom, then the verse makes its way through the barriers and rises in the chorus with freedom-loving aspirations, enveloped in the trends of the main motive.
Romantic motifs and violent trends of musical drive are woven together in Black Souls's spectacular leitmotif, enveloping the vocals with vivid fimbras. Guitar solo in the instrumental part brings a melodic triumph to a new level.
The vocal part announces the prophecies, the predictions of the forgotten prophets - combining in Godless Utopia story incredible indications of the variability in the development of the surrounding world.
Starting like a mysterious romance, Endless Roads then carries away in gloomy reflections of the mid-tempo action movie, which preserves the rebellious mood and romantic covers at the proper level.
Spreading the gloomy mysterious fogs, again and again enveloping vocal reflections in the rapid verses, Killing Ourselves To Live (feat. Schmier) crowns the sound with epic choruses, supplementing them with bardic ballads of the instrumental part.
Sealing and hardening the musical outline I'm Your Sin weaves in the vocal part together a dreamy princess and a furious witch, combining stiffness and tenderness.
The power and harsh armor of musical motifs restrains vocal zeal inside the mid-tempo Emperor Of Chaos procession, surrounded by the screech of knightly armor and the clang of swords and other uniforms.
Paying tribute to the traditions precedes the completion of the cover - Immortal Sin (Fight cover - feat. Jyrki 69), combining gloomy romance with a stiff composition with a diverse duet of male and female vocals.
The painful romance of sad reflections begins the last composition of the album The Beast Inside, but the readiness for any upheavals and enemy villainy raises the main part of the saga to bright flashes of heroism and unbridled prowess.