July 16, 2018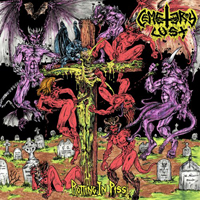 So hard and dense Midnight Invasion pitch, calling for somewhat more severe genres, intrigues, enveloping in vague premonitions - indicating the ambiguity of the Cemetery Lust - Rotting In Piss album.
Beginning with vocal debaucheries, swishing with instrumental delicacies, Piss on Your Grave develops the narrative without rejecting anything from the reflections.
Unsteady rigidity and emotions follow the hidden Fatal Infestation vocal part, complementing its anticipation again and again.
Visually tight and painfully beginning Funeral Home Massacre continues in the runaway race, setting a tight march to which the Bowels of Blasphemy vocal part follows.
Continuing the sound of I am Trash viscous painfully developing music in a whirlwind of furious calls.
Dense and furiously anticipating musical dances, Hideous Nature spins unrestrained dances around the axis of the main motif. Witches Seduction continues the sound of the previous composition, partly hardening and condensing rhythmic urges.
Closing the album with a hard and solemn Awaiting Execution march, the vocals prepare a majestic canopy for further musical and vocal obedience completing the album.