July 07, 2020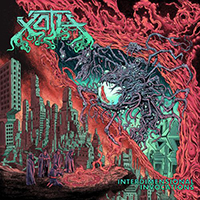 A whirlwind of fast-moving guitar solo pumps the waves of ferocious drive, then combining it in a deadly dance with the fierce vocal phrases of the Casting The Sigil musical thriller. Setting rhythmic pulsations Mountain Machines then combines the echoes of folklore motifs with furious vocal cries, continuing the Xoth - Interdimensional Invocations album's sound with such an exciting alloy of musical contrasts.
Fascinating the twilight charm of exciting melody Back To The Jungle alternates explosions of a frightening drive with the romanticism of melodic guitar solos. The Unseen Abductor spins up the race of rapid drive, wrapping around the axis of the main motive with sparkling ribbons of guitar solo.
Carrying a hit motif of guitar riffs Haruspex crowns these passages with the unity of screaming and growling in the vocal part. Guitar passages add intriguing mystery to the musical sound of Plague Revival 20Xx song. The vocal part alternates screaming and growling. Fascinating with the enchanting melody of guitar solos, The Ghost Hand Of God continues the unity of screaming and growling in the vocal part, introducing progressive artistry in musical decisions. The Melted Face Of The Soul completes the album with a bewitching unity of charming melody and unbridled rage of metal drive.