July 07, 2020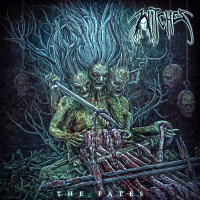 The swift drive of a furious musical thriller elevating We Are statesment of severe female vocals harsh to the top of the sound in the chorus. The Inside continues the Witches - The Fates album with rampant swiftness. weaving vocal phrases and musical riffs in a single assault on musical fury.
Driving the rhythmic beats of a pulsating heartbeat the Damned Skin Is Mine continues a furious drive, shrouded in mystical dusk, sometimes diversifying it with a mid-tempo pulsating march. So epic narrative of the Black from Sorrow twilight fairy tale begins with a vocal narrative of a mist that has been developed by an obscure fog, then alternating these tales with explosions of rampant drive.
Forcing the waves of mystical darkness Feared and Adored pushes the vocal part to the forefront of the musical image, then captivates with the artistry of the guitar solo. Weaving vocal rage and musical drive in an unrestrained round dance Off the Flesh carries you into a deadly dance of unrestrained energy, continuing the rhythmic power of a medium-tempo combat march, exploding in instrumental fragments with rapid fury, raising the Let Stones Fall songs title again and again in the chorus.
The power and fury of music and vocals unite efforts in the Last Wishes track as a single musical stream, retreating with a musical drive to the background in the verse, but again returning the mentioned unity. The Death in the Middle Ages concludes the album with a powerful and energetic musical thriller, which during a live concert would plunge the audience into the rampant cycle of a furious slam. In the final composition of the album, female and male vocals are intertwined in the furious dance of an unrestrained duet, sometimes bringing male vocals and growling to the fore.