May 23, 2019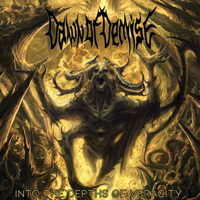 On the way to the gloomy narration of the ghostly prophet and pastor, the vocal creates an intriguing mystery of the unhurried epic composition of the title track at the beginning of the Dawn of Demise - Into the Depths of Veracity concept album. In Silence He'll Arise continues the musical narration carrying on the black wings of the twilight dragon into the halls of darkness and sacraments. After the introduction, the composition is transformed into the alternation of ordinary and guttural growth.
Seriously and slowly rolling dark gloomy waves of musical drive, the Perversion in the Flesh vocals continues to juggle with growling hues. From time to time a swirling whirlwind rushes into the music, but then the music passages return to significant slowness. Continuing the meaningful procession, the This Hate Will Consume song envelops its vocal phrases with solemn covers of epic grandeur.
Starting The Permanent Cessation with the impetuousness of the impetuous drive, the middle part is transformed by the triumph of an epic narrative, enveloping the toughness and severity of the mysticism of fairy tales.
The narrative of the Collapse vocals story begins with a solemn speech, then alternates these heraldic desires with a sharp, stubborn medium-temporal statement. Sharp swiftness carries away a furious drive in the stream, the Disgusting vocals seeks to curb the musical impulses and perches the weight of his narration on the wings of the musical passages. The Exaltation main motive sets the direction for the movement of musical passages, then they envelop the vocal phrases with whirlwinds.
After changeable additions to the epic reflections, the furious drive comes to the forefront of The Ravishment of Carrion musical narration, in the vocal part guttural shades complement the phrases with harsh significance. Ragged jerks of complex rhythm causes progressive shades to the Enraged musical image, complementing the epic narrative with elements of the technical death metal music.
Whirlwinds and waves of the pulsating rhythm of A Belated Abortion song are wrapped around guitar riffs and vocal phrases, restraining the desire for unrestrained drive. Mark My Words completes the conceptual saga of the album with a majestic march, as if the glorious knights valiantly pace the pavement of the ancient city, reveling in the honors they bestow.