May 12, 2016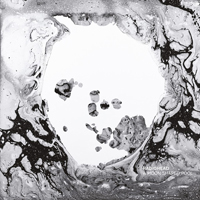 There's no choice to change all the rules, so listen to Radiohead - A Moon Shaped Pool.
Shadows and gallows surround you as well blandishment Burn The Witch sounds with the mysterious instruments, placed their parties into void of the mind.
Gently sounds of piano notes starts Daydreaming deliberately and calm from outer troubles. Next guitar strings chiming joins to quiet mild voice, dreamy continues his story.
Blink chiming opens Decks Dark to be overcomed by mild narrator with he's vocal walks.
Pace of quiet drum hits supports acoustic guitar in its mild calm melody Desert Island Disk. And then just as calmly and unobtrusively takes this tune, which occasionally included keyboards and samples.
Dancing beginning Ful Stop followed by weird keyboard and guitar continue after an unexpected vocal entry into this instrumental anarchy. In the middle of the instrument meets anarchy addition - vocal anarchy. And in the end - the same dancing rhythm, as in the beginning.
Lyrical entry of ballad Glass Eyes, guitar and keyboards entwine your consciousness with their fetters into depths of sadness, discouragement, and unreasonable fears.
Dancing steps closer to you walkin' Identikit. Further vocal phrases added to the sharp drums and play guitar lay this madness like the crown.
The Numbers starts with guitar and keyboard chalenge for the further domination. In this competition winner is not determined for the arrival of vocalist, the instruments continue to further competition for a dominant position.
Flamenco'styled guitars starts Present Tense with maracas support of their story, sadly told by the vocals.
The sounds at the beginning, resembling clock strikes open Tinker Tailor Soldier Sailor Rich Man Poor Man Beggar Man Thief. Later keyboards complement chiming clock by their fabulous passages.
Guitar passages, beginning True Love Waits passes like leitmotif through the entire composition. Singer, tells a sad story, then accompanied in addition to the said keynote even by the keyboards.