October 11, 2020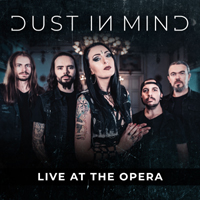 Starting to convey the concert atmosphere with the Intro wordless chorales, the From Ashes to Flames song refracts the stylistic atmosphere of the Dust In Mind - Live at the Opera album, combining the artistic intonations of a singing lady with pulsating rhythms. Then the female voice is combined with the male vocals in a romantic duet. The procession of the brooding march first brings the reflections of the female vocals to the forefront of the This Is the End musical image, but then retreating in front of the pressure of the male vocals, the female vocals complement his phrases with wordless crying.
The pressure of the Spreading Disease mid-tempo march rolls in waves of drive, then complements the musical essence with alternation and combination of male and female vocals. The Another Dimension brings the vocal part to the fore, complementing the lyrical romanticism of the female vocals with the nervous phrases of the male. Male vocals are transformed by charismatic growling, crowned in the chorus with female vocals and keyboard passages throughout the I'll Never Forget composition. Distracting from the drive with the romanticism of the majestic anthem I'm Different brings female vocals to the forefront of musical composition. A New World song continues a similar style, building the musical essence on the alternation and combination of male and female vocals.
Whipping up waves of gloomy drive and accelerating the pace of musical narration, the Get Out track revives it with energetic impulses of modern musical sound, complemented by the harsh male vocals and the emotionality of female vocals. The Open Your Eyes song completes the concert realizations of the group's compositions with his characteristic lyricism of a singing lady and a harsh rebellion of male vocals.