April 24, 2023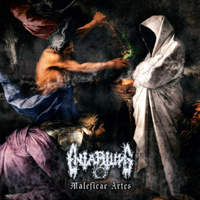 An explosion of frenetic drive paves the way for an emotional outburst of vocal rage of the Tower Of Silence song, then guitars solos bringing echoes of northern fairy tales and songs, embodying them in instrumental bridges anticipating the chorus and weaving with the vocal part into a single musical whirlwind of the chorus, starting the musical story of the Entartung - Maleficae Artes album with an impressive unity of melody and drive.
An acoustic guitar solo weaves the enchanting lace of a bardic ballad at the beginning of the Bortford epic saga, complementing the screaming main vocals with the background singing of scalds and associates, creating a joint unity with musical passages in creating a musical background.
Un Ciel Bourbeux Et Noir acoustic guitar solo with a muffled whisper of an invisible sage in the background creates an intriguing atmosphere of the Circle Of Suffering spiritual anthem, in which, after the spiritual chorales of the introduction, a whirlwind of demonic fury and unrestrained drive bursts in, wrapping around the vocal story with a whirl of swift guitar riffs.
The gloomy mystery of the musical atmosphere, long-lasting and artistic in its musical diversity, the Aufruhr MDXXV epic saga completes the album with the unity of the charm of northern fairy tales and impressive musical diversity.