August 02, 2016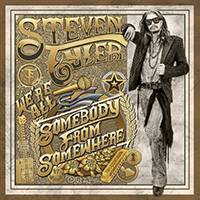 Frontman of the famous Aerosmith band represent Steven Tyler - We're All Somebody From Somewhere his solo project for all of us!
The lyrical ballad My Own Worst Enemy, takes away from the consciousness surrounding issues. Light and darkness alternate, but the dreamy vocals and thoughtful accompaniment there's no case for it as well.
Dialogue opens the entry, redefining the title track into Were All Somebody From Somewhere. Hard and unpredictable turning, changing its tempo, vocal, instrumental parts.
Difficult and hard thoughtful vocals pulls his party into the Hold On (Wont Let Go). Distorted vocals inspires us to future challenges. We do not stop - have to aspire as well!
Dreamy lyrics of the It Aint Easy are gaining attention with its melancholic melodies, vocal bursts of subordinates their remaining pockets of resistance.
Love Is Your Name blues and lounge motives overthrows us with its impulses, without losing their accents and motifs from modern instrumental parts.
I Make My Own Sunshine country-style and rustic melodies will not leave a trace of sadness, casting an atmosphere of inspiration and hope.
Memories of past days describes to us Gypsy Girl, she was or not - she was or wasn't? Unknown - but she remains as part of the memories of the old days!
Fun and inseparably Somebody New from distracting us from sadness and reverie, it begins to clothe our fears and concerns in a happy and joyful guises.
Gutar fingering and vocals confession starts the Only Heaven, ongoing dispute behind the vocals and accompaniment, that emerges their pictures of what is happening in their own way.
Blues crosses the The Good, The Bad, The Ugly And Me as well, are you from Chicago? No? Have to listen to that, have to man - or you're ugly?! Listen to me!
Dreams don't fly up, it waits for the Red, White & You. What color, style, way of life you will chose? We have to know that! Select your case - or go away!
Dreams do not fly up, Sweet Louisiana take its course, without allowing discouragement to divide our common thoughts. And - viscous overcast repetition of the name - it's the chorus!
Ask the question What Am I Doin Right? Ask the question to yourself is not easy - much harder to demand an answer!
Steven Tyler returns to the roots - he performs Janie's Got A Gun, Aerosmith cover. More pensive, calmed and lyrical then original, as for me. But Steve is the same man as well!
A song that raises more questions, than gave answers on it - Piece Of My Heart, Janis Joplin cover. All heart, its impulses and aspirations, the amount and desire can not be measured. But how to measure the part of it?!