August 11, 2018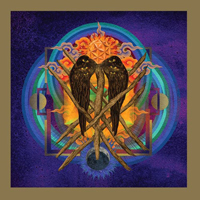 So dense, viscous and thoughtful Ablaze introduction heralds a danger, after prolonged and extended musical preparation, the vocal supplements the sound of a storm of emotions, remaining in the background of the musical image, as if confused by fetters, which do not allow realizing changes in the surrounding reality. From time to time the vocal part is supplemented by a restrained growling, remaining in the background of the musical image, as if strengthening and supporting the sound of the first Yob - Our Raw Heart album's composition.
The rolling rumbling of the giant essence rolls through pulsating waves, stubbornly moving along the chosen path of The Screen intro. The vocals sounds so harsh and rough, following this pressing pulsation, together with him lifting his phrases to the crests of musical waves.
The mysterious atmosphere of waiting comes to an end with powerful, severe and so tough rhythmic blows of the In Reverie intro. Vocals complement nervous experiences, insinuatingly penetrating emotional phrases through severe pressing motives, enveloping them with their painful experiences.
The mysterious ambiguous atmosphere is enveloped in conjectures, hovering in the gloomy haze of ghostly expectations. The Lungs Reach composition appears mostly as instrumental, the vocal appears only at the very end, supplementing the music filled with nervous drive with the furious cries of severe growling.
Eliminating nervousness and fury, the Beauty in Falling Leaves music envelops with the atmosphere of pensive romanticism, the vocal recollects the feelings experienced, admiring the past impressions and remembering the contemplation of images of incredible beauty.
The Original Face main motive majestically and significantly builds its way, confidently twisting a whirlwind of melodious passages around the vocals phrases, advancing in a dense and assertive dance, invariably following a chosen direction.
The title track Our Raw Heart completes the album with a romantic ballad, inspired by a soft and sensual melody, filled with waves of romanticism. Concluding the composition with an instrumental suite weaving spicy oriental motifs with artistic guitar solo music is supplemented with elements of progressive artistry, worthy and successfully concluding the album with such impressive musical discoveries.