April 14, 2020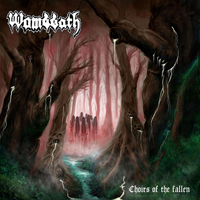 The Fallen track, pointing to a fragment of the Wombbath - Choirs of the Fallen album's title, begins this release with a combination of epic melody and mid-tempo severe drive, sometimes departing from the melodic charm of a guitar solo, mesmerizing with mysterious echoes ancient legends and fairy tales. Crawling from the Pits continues the musical narrative by the painful procession of the burdened exiles, that are escaping from the pits of confinement abyss. The introduction of vocals initially appeals to a furious stream of drive, but then the vocals again returns a painful sound, then repeating such an alternation again.
Gloomy We Shall Remain intro shrouds in an impenetrable gloom of dark omens, then the harsh growling of the vocal part marches in the process of a detachment of knights in a decisive battle with evil. Guitar solo envelops the atmosphere of epic mystery, then the rhythmic pulsations of the drive intertwine with A Sweet Taste of Death vocals in an exciting musical stream. The From the Beggars Hand song is marching an impressive march a majestic anthem, sometimes bringing in the inclusion of drive, but preserving the epic charm of an impressive saga.
A painful dusk envelops in a mysterious haze, then a demonstration of power and drive march, then again the twilight meaning precedes the Void unity of armored drive and harsh vocals. Drum roll precedes A Vulgar Declaration mesmerizing unity of vocals phrases with guitars riffs, charming with progressive improvisations and rhythmic changes with leaving composition. The harsh mid-tempo procession Wings of Horror, entwined with ribbons of a guitar solo, inspirationally and epically creates intrigue, blooming bud of a guitar solo sparkling with the charm of mysticism.
Another component of album title Choirs of the Damned rolls the musical fabric of the epic saga, introducing a vocal narrative significant fairy tale, showing in the vocal part the influence of screaming with the dominant growling. In a Cloak of Anger concludes the album with a narrative a bewitching fairy tale, complementing mystery with background wordless chorales.