May 20, 2016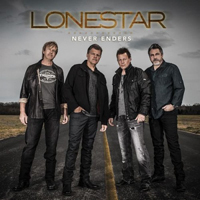 Not postponing, at once, without heating the title track Never Enders starts show for adults, Lonestar - Never Enders - there's a lot of bar items: vodka, whiskey, etc. to cheer up! Things that never ends, oh yeah! But - after all unnecessary funs comes sadness, immersed in thoughts, that's like I Know It Was You, keeps the sense to the end.
All have the native place, where feels reborn and with the great mindpower that can move the mountains. Yep,My Own Hometown can help to do that with its pace and endorsing that place by its sounds. Even for a stranger in his own hometown!
Dancing rhythm starts Twice, oh, not just once! Dance music is played and continues to further develop its rhythms. Not once, let's twice!
After the fiery dance parties you need a break, rejuvenate yourself - so this time to indulge in contemplation, ballad This Time talkin' about that, calmly and peasfully.
Sometimes, take decisions, so that confidence in them overflows. And then we understand - I've Been Wrong Before. So that lyrical song, fulfilled with the dreamy guitars and keyboard inclusions tells that all opinions may change!
Someone wants to conquer all the peaks of the Himalayas, someone - Loza's accompaniment. And there are those who just says, that - I Want A Love. Midtempo wonderful song transmitted that to you!
Many times you hear Us during that song. That's for us, you know that. Be sure about that, drummer clearly drives strikes - just for you, the guitarist rhythmic support it - too!
Sometimes everything is changing beyond recognition, going all the known boundaries of perception. Then Here We Go Again. So you can't take off your eyes from me, oh yep. We at home, not alone. Again and again!
The rhythm accelerates its pace Boomerang flies quickly where you target it and back again. Like a Boom-a-rang-rang-rang!