March 01, 2022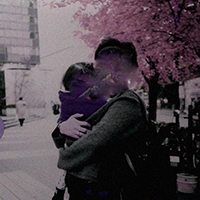 Gentle vocal tunes combined with soft and calming musical passages in a atmosphere of the Desire enigma and tranquility, embellished with sparkling keyboards notes begin the musical narrative of the Yeule - Pathos (EP) release, neatly turning over the first page of this book.
The intriguing chime, like the wings of invisible fairies, envelops with intriguing mystery, bringing an intriguing mystery to the sound of the Tint composition before the introduction of wordless vocal chants, combined with the soft chime of the bells.
As if the echoes of ancient fairy tales with the background heartbeat of an invisible mystical essence enchant with the harmonious and atmospheric sound of the Soul Catcher atmospheric instrumental track.
In the sound of the Angel's Wings composition, the enchanting musical variations are joined by the mysterious background chants of the singing lady, receding before the whirlwinds of musical chime.
The epic mystery of the About Her musical tale's introduction anticipates the enchanting inspiration of the female vocal phrases, weaving them together with the mesmerizing musical lace that precedes the enchanting mysterious tenderness of the Promise album's final composition.