July 14, 2019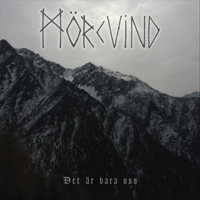 Northstar begins the Morkvind - Det Ar Bara Oss album, which appears as a collection of bardic sagas, twilight guitar passages. Vocal phrases pacify the musical narration, introducing epic shades of ancient legends and complementing the music with the charm of northern severity.
Slightly accelerating the tempo of the Nattens Sjal music from the very beginning vocals is riding in a hurried emotional race, pumping waves of haste into the main motive, but then freezes in a leisurely charm of the northern anthem.
From the muffled howl of a distant blizzard, the vocal carefully and thoughtfully searches out for patches the main motif, weaves his musical lace against the background of distant winds and bringing the drive to the musical image of the Som Vinden Pa Fjallet composition.
Thoughtfully and wisely the vocal crowns the musical narration of the Den Ansiktslosa significant anthem, complementing the pulsing marching majesty with the trends of inspiration and thoughts. Myrkvior immediately chases in a swift drive, hastily overtaking vocal exhortations by the whirlwinds of musical passages. The verse rapidly sweeps along the path of musical narration, turning into an incredibly melodious chorus lace.
Resting from the incredible swiftness, title track Det Ar Bara Oss completes the album with the trends of the northern sagas, rising from non-existence by inspirational ghosts around a brooding vocal narration.