July 13, 2019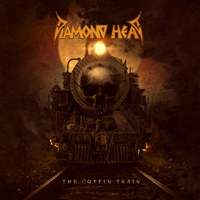 The noise of the incoming locomotive ends with a stream of impetuous drive, the vocals bring the atmosphere of adventure into the verses, again and again emphasizing the completion of the couplet and phrases in the chorus with the Belly of the Beast title. Shrouding the vocal narration with epic veils of accompaniment, The Messenger continues the Diamond Head - The Coffin Train album with mid-tempo paced epic narration of an old legend about a ghostly mystic and prophecies of future deaths.
The title track The Coffin Train begins with sophisticated reflections, full of experiences of mild sadness, and raises the chalice of the solemn anthem in the chorus.
The tale of the Shades of Black song, full of significance and importance, rolls out the musical canvas of a majestic ballad, leisurely and importantly marching along the chosen path of musical narration.
Silence, distant drumming and distorted soldiers' orders The Sleeper (Prelude) ends with a march and precedes soft guitar fingering and romantic phrases of the introduction of The Sleeper composition, then developing into a confident, powerful and exciting ballad, marching along a solemn march along the musical path of their narration.
The guitar solo of the Death by Design introduction, which anticipates further drive, then is alternating with the harsh musical waves of restrained drive and vocal phrases full of feelings, then the verse is replaced by the chorus, interlacing the vocal phrases with the guitar solo from the intro.
The dim guitar solo of the prelude introduces the Serrated Love romantic ballad, enveloping in a lace of emotional distress, entwined with a trend of mild sadness. The middle-tempo composition The Phoenix brings the vocal part to the front edge of the compositional structure, pulsing with powerful rhythmic passages in the background, bringing them to the forefront of instrumental bridges. Until We Burn completes the album with a brooding ballad wrapped in threads of fatigue and sophisticated reflections in the verses and elevated on the wings of wise inspiration in the choruses.