July 15, 2019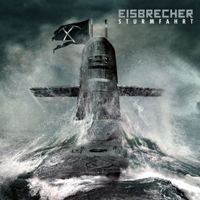 Intriguingly beginning with musical and vocal meditations, Was Ist Hier Los? song instrumental bridge between the verses brings a stern drive, returning after the next verse in the chorus, in which the title is again and again emphasized. The epic guitar solo of the Besser intro inspiredly sounds, then the verse marches in a stern march, leading up to the chorus with anticipations of change, rising in the majestic atmosphere of a meaningful anthem in the chorus. Then the music is transformed for a while into a romantic ballad, anticipating the final chorus.
The title track continues the Eisbrecher - Sturmfahrt album with a harsh drive, then the vocals, in a muffled, mysterious voice, lead to the bridge, anticipating the inspired chorus. In Einem Boot continues the musical narration, shrouding in epic covers of classical music, piercing it with sparks of electronic impulses. Then the musical narration brings the vocals to the foreground, enveloping the main vocals with chorales of adepts in the chorus.
But the electronic trends of futuristic trends come to the fore in the industrial narration of the Automat song. Eisbär continues this stylistic of musical narration, but vocal phrases acquire a more humane connotation, so the accompaniment more confidently rolls the track of the musical canvas.
The sound of the Der Wahnsinn composition captures attention, churning the name in the chorus with a whirlwind of musical passages. Herz Auf is a fascinating ballad that holds the listener's full attention. The Siren in Krieger intro anticipates anxious and disturbed vocals reflections. Then, in music, disturbing whirlwinds anticipate the chorus, in which the composition appeals to ballad romanticism.
The Das Gesetz composition, apart from gloomy vocal reflections, is complemented by a peculiar, memorable and ambiguous video clip. But dispelling anxiety and feelings envelops you with an atmosphere of romance, rolling fascinating passages of medium tempo light and pleasant Wo Geht Der Teufel Hin composition.
The song's name suggests anticipation of a swift drive, but the Wir sind Rock'n'Roll song appears as a harsh and sophisticated verse's march, followed by a bewitching anthem of the chorus. The ship's bell calls the team, then the humming trumpets complement the vocal part, which crowns the musical narration with phrases of the D-Zug chorus.
Das Leben Wartet NichtNight duty calls for attention and concentration preservation, weaving vocal reflections with enchanting musical covers of an inspirational ballad. Complementing the stylistic features of the album Wir Sind Gold completes it with a futuristic industrialized interpretation of blues.