December 23, 2017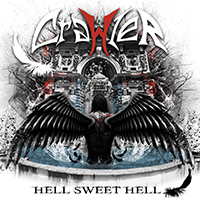 An epic instrumental extravaganza Drakarys combines marching rhythm and symphonic melodism begins a conceptual musical artwork Crawler - Hell Sweet Hell , according to the names of songs dedicated to the books of George Raymond Richard Martin "Game of Thrones" that is an integral part of the fantasy series "A Song of Ice and Fire".
Developing the theme of music that begans in the intro Winter Is Coming raises the impetuous waves of anxiety and preparations for the coming battles. In the breeches between showing a high level of anxiety in the vocalises.
In a playful and dancing manner, story of Dhampyre king is enveloped in a musical whirlwind, the vocal acquires a rough hue, becoming more harsh than a clean tenor.
The keyboards passages combines in charming spells with bass guitar, then the guitars joins the The Power of Magic, next the vocal phrases complements this importance of magical skills.
The whirlwind of dreams and fairy tales sweep the sparkling vortexes of unimaginable illusions, then the vocal takes on a dominant role in the incredible Neverland story.
The irresistible impulse of a romantic ballad I Wait For My Siren covers with feelings and emotions, in a pensive and tender musical outline, weaving tangible vocal phrases and gentle musical passages.
Starting with bass guitar solo No Pain takes us in a drive stream through insurmountable obstacles and impossible tests.
The Dark and the Eyes main motive from the intro entwines with the dusk an obscure anxiety pervaded by the wonderful keyboards passages, the vocal in the verse tries to escape from these invisible fetters, but in the chorus the main vocal is complemented by fellow comrades who understand all the hardships of his difficult circumstances.
But these premonitions envelops in a haze of proud The Lair of the Smoking Dragon musical motives, anticipating a grand battle and the formation of the legendary hero. Magic, charming keyboards motifs are combined in the middle of the composition with guitar passages and vocal not in an indescribable romantic atmosphere, ending with a charming guitar solo.
The dark atmosphere in the title track Hell Sweet Hell introduction envelops all with the gloomy fog, the bright guitar riffs are replaced by alarming breaks, in the chorus the broken rhythm distorts the surrounding reality, evolving in the drive of the subsequent verse into obscure, fickle motives.
The thoughtful guitar fingering begins Seven Days song as a dreamy ballad, then sublime violin motifs and exquisite keyboard passages complete the vocals, the background of which is the muffled voice of the invisible fairy. But then the composition develops into a disturbed and romantic mid-tempo composition, which occasionally raises vocal and musical experiences on a tray of ballad melodies.
Combining symphonic, melodic, romantic ballad parts ending with anxious guitar solos with vocalizations with a potenti of furious drive, in the instrumental part enveloping the hot winds of oriental motifs and progressive guitar solo Akhenaton so impressively completes the album.