December 24, 2017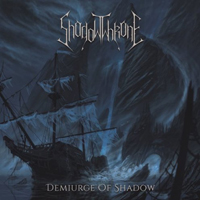 The mysterious atmosphere of instrumental intro Across The Open Sea complements the wind noise in the decaying sails and symphonic orchestral passages on the background. The title track continues the Shadowthrone - Demiurge Of Shadow album about undead pirates on a ghost ship under the command of a dark necromancer. A wave of an implicit drive, along with a charming dark melody, starts the composition, then it is supplemented by screaming that transforms music into the twilight romantic tale.
Dark charm again entangles the Faded Humanity introduction, vocal revelations of the evil necromancer explodes with a furious flow of drive. But in bridge the charming melody anticipates the next stream of revelations, which is supplemented by the sparkling notes of guitar passages.
The furious wave of impetuous drive precedes the vocal phrases rhythmically marching with them through the Theories Behind Chaos verses, supplemented by the banshee chants in the choruses.
The howling of the wind, the cries of seagulls and thundstrikes complementes the choir of the clergy, then Seal Of Opulence continuing in the dark romantic musical haze that the cries of the righteous in Latin try to dispel - but they will not come out to resist the evil charms and the darkness of the dark symphony.
The wave of dark drive starts Daemonius at the average tempo, then the violin and keyboard additions precedes a swift rush, that ends with a charming melody, overwhelming music with the gloomy charm of evil spells. houghtful prophecies that dazzle the demonic scream of screaming precede the completion of the composition with an exciting finish.
The Disciples Of The Dark Master main motive implicitly and mysteriously develops in the introduction, then enveloping its musical charm with a pulsating tempo and significant musical vortexes.
The charming haze of a dark fog Blazing South Of Kingdom, carrying waves of evil spells and terrifying ghostly spirits carries a wave of enchanting melody, combining it with vocal phrases in a single enchanting stream.
The ragged changeable rhythm in combination with the dominant keyboard part begins the continuation of dark charms for the Total Darkness, but the guitars are vying against their role. Connected vocals divide rivals on different sides of the fight again and again.
Acoustic instrumental ballad Howling Abyss completes this epic tale with a soft and relaxing guitar search, smoothing the storm outside and frightening tales by the fireplace.