May 03, 2021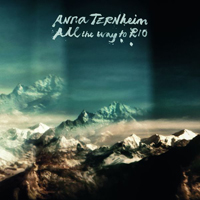 The unhurried soft tenderness and pensive dreaminess of the title composition begins the musical narration of the Anna Ternheim - All The Way To Rio album with a peaceful calmness. The Waving His Hello song brings the vocals to the forefront of musical reverie. Vocal phrases weave a mysterious lace of musical artistry.
The notes of the introduction of an acoustic guitar, mesmerizing with its solos, give the sound of the 4 In The Morning composition some shades of spiritual practice. The Holding On song accelerates the tempo of musical narration somewhat, directing melodic musical passages after vocal impatience.
Musical pacification creates an atmosphere of incredible calm, in which the sensual emotions of the Maya romantic ballad sound, then continues the similar style of the acoustic guitar solo and the artistic keyboards background of the sound of the Battered Soul track.
The solo of piano shapes the Keep Me In The Dark intro of a sad symphony, then complements the notes of the keyboard backbones with vocal sadness. The Dreams Of Blue song concludes the album, complementing the vocal doubts with musical passages of wind instruments and musical artistry.