May 03, 2021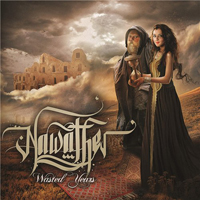 The Portals to Edinya track begins the musical narration of the Nawather - Wasted Years album with an instrumental symphony, then the Falling Down the Slope song's sparkling motives of oriental folklore are complemented by the alternation of austere male growling and gentle trembling melodies of female vocals. The drum roll is combined with the spicy motifs of oriental folklore, further continuing the unity of the battle march with the spicy shades of an oriental fairy tale into the sound of the Daret Layyem song.
By adding some electronic impulses to the intro, the Raped Dreams track moves the sound towards industrial music. Then the music explodes into unity in a single musical stream of frantic drive, which alternates with gentle melodies of female vocals and the soft chime of an epic fairy tale. The Broken-Winged Bird partly retains this style, but again returns to the vastness of oriental fairy tales, complementing the musical charm with the harsh fury of a male growling, retreating before the charm of a singing lady. Intriguing and unhurriedly forming the structure of the main motive from progressive musical variations, the Time to Raise the Curtains song then weaves the male and female vocals into an alternation of severity and tenderness.
The tenderness of the female vocals is brought to the forefront of the musical image, combined with the sparkling artistry of musical variations and the progressive fracture of the rhythmic essence of the Defnouna composition. In fragments with male vocals, the vocal part combines dominant growling with background screaming. Male and female vocals intertwine in a mesmerizing dance of the Succubus Romance sensual ballad. Children's laughter, chimes of bells set the introduction of the Kont Trab final composition of the album, then complicating the rhythmic structure in progressive artistry, complementing these variations with the saddened cry of female vocals and the furious anger of the male.