January 23, 2022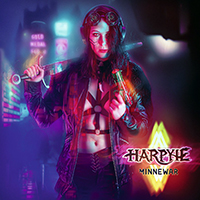 The musical tunes of the Wenn Ich Tot Bin (Luna Luna cover) track open the gates of the Harpyie - Minnewar release and get listeners ready for combats, trials and upcoming battles. The Tanz mit mir (Faun cover) song is a reimagining of an unforgettable folk motif, alternating fierce vocals with emotional ones.
With a slightly faster tempo and some drive, the Spielmannsschwur (Saltatio Mortis cover) composition brings the music and vocals into the mix with the charm of folk instruments tunes. The Krabat (ASP cover) gothic ballad enters into a romantic atmosphere with an enchanting waltz of piano and violin. Enchanting with a dreamy musical introduction, the Es gibt nur Wasser (Santiano cover) track points the unity of folk motifs and popular music sound.
The anxious expectations and the intriguing introduction come together in a single stream of restrained musical drive with the Rapunzel (Letzte Instanz cover) transformed musical image. The Thekenmädchen (Versengold cover) song is a bit of shifted away from the modern musical leanings toward a medieval musical charm. The Blau wie das Meer (Mr. Hurley&Die Pulveraffen cover) composition brings the presence of a similar musical style in the songs of sailors and pirates, dedicated to the theme of the sea, storms and sailors tales.
The Vollmond (In Extremo cover) music envelops vocal experiences and anxieties with a twilight atmosphere, uniting in joint anxieties and premonitions. The Klied aus Rosen (Subway to Sally cover) song brings the vocals to the forefront of the sound, anticipating the ending of the album of the Willst Du (Schandmaul cover) romantic ballad, charming sensual intrigue and artistic flute tunes in the background.