November 18, 2016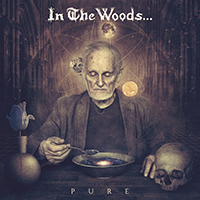 Should we look for flaws, imperfections, omissions - it's In The Woods... - Pure there is no question!
Without any delay, the title track Pure reveals its cards, throwing them on the table in a violent fit of sincerity. This is follows a break of emotional outbursts, then - next explosion - the track consists from these turns, interspersed with sublime dreamy keyboards inserts, that ascends furious guitar riffs in the vastness of legends and fairy tales. Tale finishes by repeated promises with the accompaniment of a quiet relaxing piano.
Distant winds carries mystical legends of the primeval sounds in their impulses, appeals to Blue Oceans Rise (Like A War). Then comes a retelling of legends by balanced thoughtful storyteller under mysterious and alluring instrumental parts, enveloping with enigmatic and mysterious atmosphere of extraordinary legends.
Cryptic mystic sacrament signed by Devil's At The Door, then instruments in combination with vocals reveals the pulsar of power and energy, alternating it with quiet respite and continue with balanced story untill the next turn of mighty rage.
Romantic lyrics are paving the way from the heart and emotions to the mind and thoughts through the delicate and impressive ballads, The Recalcitrant Protagonist is one of them - it easily finds specified path with no complications forever and ever.
Dancing swaying from side to side The Cave Of Dreams tale presents its story unhurried but not too slowly and lingeringly. Guitar themes circling around the main motif, like a flock of cave creatures, not allowing to take away from their lair anything of value for them.
Dreams are poures out into the space with gentle melody, calling to worship for Cult Of Shining Stars. Lyrical tenderness, climbing up to the stars of romantic bars complementes the east folklore motives, ascends in a spiral manner at the night sky.
Ascends within the insurmountable desires, unfulfilled desires restrictions haunt us Towards The Black Surreal. Keyboards playing with doubts, juggling rapid sublime passages and controlling us like marionettes, using the invisible threads.
Cosmic expanses are allways unexplored within its limits, no matter how many flight center is repeating Transmission Krs - that instrumental saga reveals the universe from different points of view, delineating calm guitar motifs its stable and clear outlines, including hovering shadows of ghostly keyboards chords and other instrumental delights.
Persistently and stubbornly This Dark Dream moves towards its mysterious achievements, alternating emotional neurotic vocal phrases with edifying guitar bursts. Then follows the expectant tranquility, arranging a halt soaring keyboard nymph that surrounds all around delicate ambience - until anger and rage do not materialize surrounding solid, giving way to a new vocal passage.
Mystery Of The Constellations steady rises to the development of space, inspired by alternating restrained fury strikes, that uprises vocal phrases, with calm quiet respites - so end of story combines melodic fury with disposable peace.