February 16, 2021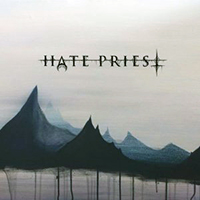 An impenetrable twilight looms in an unstoppable atmosphere of severe horror, bringing an even greater atmosphere of horror and fear with the Hate vocals phrases alternating between deep growling and demonic screaming. The In Time track continues the musical story of the Hate Priest - Hate Priest album, picking up the pace in the fierce frenzy of a musical thriller, but then focusing on overwhelming vocal severity.
Viscous slowness draws the Manipulate vocals phrases into a painful swamp, but they sometimes tend to break out with angry exclamations. But the gloomy burden is further aggravated by the sounding of the Psycho and Waste of Breath (feat. Chris Vasquez) compositions, painfully and unhurriedly marching through the gloomy mystery of impenetrable fog.
The Servant muffled hum of guitar passages with melodic guitar busting in the background acts as an introduction to the Secretion (feat. Kris Otero) composition, which in the painful gloom brings the vocal part to the front of the musical image, complementing the musical romanticism with vocal severity.
Combining screaming and growing, the Parasite brings vocal part to the forefront of the musical image, alternating screaming and growling with matching musical passages. The Forget (feat. Cameron Mcbride) song's participation of a guest musician brings variety to the stylistic solutions of the album, complementing them with guitar variations characteristic of this artist. The Create track concludes the album with the fierce severity of a musical thriller. But the guitar solo brings the brooding mystery of musical mysticism, complementing the final composition of the album with notes of the twilight saga.