February 16, 2021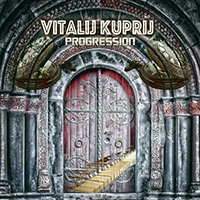 Musical reflections slowly and thoughtfully approach the development of the Internal Force (feat. Tommy Vitaly) main motive, surging with a bright and mesmerizing whirlwind of a guitar solo. The participation of a guest musician gives a special charm, spice and unexpected development to the variations of the track. After the pulsating notes of a bass guitar solo, the morose reflections of the rhythmic structure of the Dansanity complement the artistic keyboard and guitar notes that open the gate to the mystery of the Vitalij Kuprij - Progression album. The Revolution / Evolution keyboards intro lends notes of saddened romance, but after a vivid improvisation, the spirits of classical music rise in a swift flight on the wings of passages of metal music.
The solemn procession of the Sinfonietta epic symphony concentrates even more on the embodiment of the solemn elements of musical classics and minstrel ballads of noble families. So brooding romance of the Whispers from Beyond sad ballad enchants with musical pacification and uplifting sensual experiences in vivid improvisations of guitar solos. The sound of the Progression title track creates an obscure twilight that recedes in front of complex, progressive musical variations and then focuses on the enchanting melodic guitars and keyboards solos.
A soft keyboard solo sets the way for the Remembrance romantic atmosphere by giving freedom to guitar solos. The Power of God suite fascinates with the solemn grandeur of medieval noble celebrations, then supplementing and developing these motives with guitar passages. Rethinking the title track, the Progression (Reprise) concentrates in it even more echoes of classical romanticism and notes of restrained drive. The Facing the End closes the release with muted musical reverie, recalling an unforgettable creation of classical music.