April 05, 2017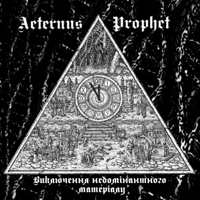 It have to be heard - many of us have experienced much of the above, but Aeternus Prophet - Exclusion Of Non-Dominated Material will reveal the unfamiliar sides of these topical adversities!
Sarcastic, allegorical text Removed Eyes tendes us into the fantastic realm. We can stay there (argh!) or escape - we prefere that as well!
Powerful allegory still prevails rapid speed, brutal Total Dominance. So wrath, rage and powerful advance overcomes everything else!
Beautiful airy, light and inspirational melodies of the Diapause Of Thought Processes combines with nervous, hard and burdensome vocal phrases in a single stream.
Power and fury are combined in a single, malicious and unquestioning Sick Vision. Rhythmically, furiously, no questions asked! Ruzim, we kill, we mutilate - all those who are disliked for us! Argh!
Hard, jagged, broken riffs create an atmosphere of the Exclusion Of Non-Dominated Material, bone prophecy can not see visible borders and shores, the melody drags the perception into invisible limits, but the creatures do not go after this fantasy.
Rage and anger spill out the accumulated reserves in Uncaused Defacement, at first abruptly and quickly, then powerfully and rhythmically - then combining both of that. Only you can understand and compile that! Only you!
Rage and anger prevails over speed, gloomy sound of vocal phrases returns black metal in Fate Will Expect Your Death..., unites more than two styles of music.
Old times, the forgotten sound revives in the Obliged To Live is necessary to listen to again and again!
Gloomy, mysterious motifs surround among the Wipe Off The Mark, combined with a wonderful, memorable melody. But everyone can not understand, no one can guess, none of the experts has yet been born!
Gentle, mysterious A Look Into Eternity symphony combines several styles in the album's completion.