April 05, 2017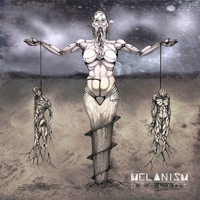 Sadness, grief sometimes harasses - Melanism - Decline all so much in their musical passages and crevices, reliable, substantially embodies !
Thoughts go into distant expanses, a lifeless confusion of instrumental doom, Loom accompanies, not letting go for an instant. The pressing, complex and pallid sensation of the impetuous ends clings to the abyss of darkness and despair.
Vocal phrases burdens despair with its nervousness, violent and careless phrases, turning Omnimsomnia depression into painful, gloomy and hopeless thoughts.
Oligarchs exacerbate the desperation and hopelessness, exciting guitar breaks soar over the painful, wistful and hopeless musical pattern.
he pace is increasing in the introduction of the Red Giant, then turning into the dense and intense musical fury, exciting attention and perception as well.
Calm, melancholy and sublime beginning is replaced with furious and sad atmosphere that states Shoreline for all of us.
Power and anger of Drops combines with charming inserts of the piano, keyboards passages and guitar riffs, wrath, fury and sorrow are combining unite in the single stream. Vocal phrases creates an encouraging, sacramental intriguing atmosphere. Tranquility and thoughtfulness, changes your thoughts about the surrounding Mass Production reality. Music exacerbates the complexity: the richness of its diversity - sweeping away all the restraining frames, despising limitations and detachment. Complex, thoughtful guitar riffs despise possible misunderstanding and so refined and melodic keyboard passage rushes through all the canvases. Complex, changeable, broken rhythms causes Suffering, keyboards improvisations combined with guitar strings in single stream unite, wrapping vocal phrases, creating tough single tunnel for that deluge.
The pace rises for a bit, creating Acceptance furious drive at the end of the album. But the keyboard passages bring notes of melancholy, sadness and hopeless romance. That's the end of the world - and we know that!