April 06, 2017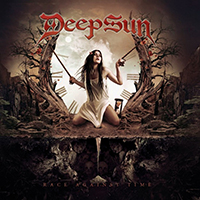 Sadness and melancholy are sometimes eaten, conscience tames them. Deep Sun - Race Against Time providing an inconspicuous link between the past and the future!
The furious drive of the strong, zealous and powerful of the title track Race Against Time combines and interwoven with the melody of the chorus, carrying the singing lady through the entire composition. In the instrumental part, sublime improvisations take hold of attention, overwhelming doubt.
The rushes and pressure combined with the symphonic melody, Riders Of Death turns into a slightly different sound, the verse and the chorus are tough: harsh and rhythmic - the ending of the chorus takes away the magical female vocals on the ghost wings to the skies.
The voice of the lady densely and satedly sings what she believes in as The Believer - without the slightest doubt. The instrumental part iridescently and clearly recreates the enchanting magical images of these promises, faith is repaid many times - about the promised fabulous lands.
A gentle, flexible and delicate melody accompanies the lady's story of previous memories about Good Old Times. Then, power and energy blow the symphony in a swift leap, creating a furious combination of melody and rage. Then the story of the lady with the support of the singing guards revives in the choruses - again and again.
A bit leisurely but not slowed-down legend unites medieval minstrels with folklore motifs, so Dreaming Leprechaun recreating so fabulous and unforgettable atmosphere.
Romantic, exciting in the atmosphere of Nostalgia ballad. Creates imaginary castles, with beautiful princes and charming princesses, constantly arranging enchanting balls, unforgettable events and unforgettable events. But these imaginary, fictional images sweeps over us in the clouds, leaving only a sense of lost.
Title over title track Deep Sun combines the instrumental drive with the tenderness of female tunes in a single stream that refracts reality according to one's own ideas. Inserts of male vocal assert - no more light, awaiting hor help to clear, another way - just death!
The lyrical, delightful beginning of For Eternity turns into a solemn accompaniment to sparkling female phrases that find vocal support in the chorus.
Solemnly, rhythmically beating gongs and drums soldiers accompanying these Des Konigs Krieger. The rigid clarity of the German language contrasts with the tenderness and softness of female vocals, forming likely kind of fascinating image.
Lady carries all of us from the realm of fury and battle into the space of romantic emotions, bringing her thoughts and emotionses to the forefront of the Dark Ravine musical image.
The soft melody of the pensive piano joins the gentle, inspired female vocals into the sound of Whispering Screams, lovely and charmingly completing the album.