March 21, 2018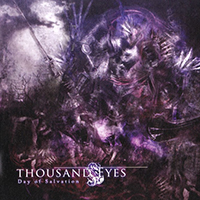 Melodious instrumental introduction Dawn Of Despair begins the album with a flash of bright inspiration, radiating joy and dreams with dazzling light. The title track Thousand Eyes - Day Of Salvation continues the album, focusing anxiety in the vocal phrases of couplets, in bridges and choruses carrying music with waves of violent drive.
In the introduction of Dead Again like ghosts bring the spirit of the operetta, artistically and mysteriously continuing its narrative in verses. In the bridges, music is hardened by the shadows of dark anger, solemnly and valiantly summed up the previous trials in the choruses.
The majestic, spectacular melody passes through the whole song Lost Forever as the leitmotif, gracefully and excitingly captivating the musical whirlwind of its greatness.
Rigid and severe riffs envelop the melodic passages of guitar solo, Cold Blood vocals introduces an atmosphere of anxiety, instrumental bridges clearly performs the influence of Italian classical music.
The swift wave of uncontrollable drive takes the doubt away, Death Illusion vigorously sweeps away all obstacles from the path, hurriedly and abruptly moving farther and farther.
Final Reign continues the runaway race of violent drive, bustling to the chosen goal even more rapidly and sharply, the solo guitar introduces melodic romance in the quick black knights galloping.
Astral Skies completes the triad of impetuous drive, somewhat slowing down the pace and adding a bright inspiration in bridges and choruses.
Dread My Brain intro continues the whirlwind of impetuous drive, enveloping it in a dark fog of gloomy prophecies, the vocals widen the stylistic framework by introducing elements of the groove. In the instrumental part, a guitar solo introduces a whirlwind of romantic premonitions.
Already in the introduction the Rampage Tyrant main motive captivates all around by the energy of musical motifs, taking to the imaginary expanses of unrealistic promises. In the chorus, melodic riffs are adorned with sparkling jewels of bright melodies.
The middling, proudly spreading motifs mid-tempo Devastated Moment composition completes the album, slowly marching along the chosen path, from time to time breaking into the swift whirlwinds of the choruses.