May 12, 2021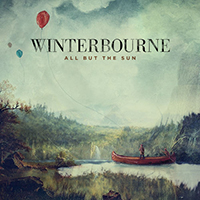 The soft solo of an acoustic guitar creates a musical atmosphere for magic vocal reflections, indulging in memories of experienced events and acquired experience. Then chime guitar riffs complement soft rhythmic appeals, combined in a single musical stream of the Cold song of the Winterbourne - All But The Sun (EP) album. The Boy Prince continues the musical story with the stories of the wandering cowboys of the Wild West, lowering and inflicting with its wanders in the combination of country-style and southern rock.
But recalling the peaceful singing sites of the Steady My Bones song complements the main vocals of the associate comrades, combined with the soft and pacifying chime passages of the acoustic guitar.
The romantic atmosphere of the Leaves acoustic ballad is complemented by thoughtful and inspired vocal entries and orchestral symphonies of wind instruments. The Sunrise composition continues the sensual and romantic atmosphere, keeping musical and vocal inspiration. Separately, it should be noted chime acoustic guitar and percussion elements Tamburin and bright notes of a guitar solo. Also special charm sounding tunes gives harmonica tunes. The Heart And Mind song completes the album, returning to the memories and indulgence with its aspirations, sometimes complementing the main vocals with comrades support.