May 12, 2021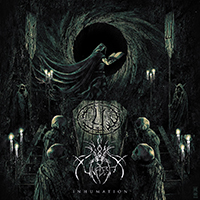 Acoustic guitar solo creates an atmosphere of mystical mysteriousness, but then the Behold Nightfall music is gaining momentum by the waves of the mysterious drive, developing the motives embedded in the Unflesh - Inhumation album's instrumental intro. But the Vast Forest of Impaled Cadavers is exploded by the unity of complex progressive melodies and fierce vocal emotionality, exciting attention and fascinating dark tales and dark climbs into the expanses.
After mystical mystery of the entry, the sound of the To Renounce Flesh and Blood song is at the top of the musical image the vocal party, in which the storyteller tells his story. Bright guitar solo of instrumental bridges decorate the sound of a musical composition. The Inhumation title composition is rebelled by a mystical sacrament, then the excreasing banners of the epic anthem, marching in the vocal narration of a significant lord. But sometimes the music explodes and accelerates, obeying the vocal emotions, combining screaming and growling. Instrumental part's guitars solo enchants with a charm of incredible melodies and artistry of musical variations. The Amongst Horrors Must I Dwell intro's chiming ballad is developing into the sound of the bardic saga, in which the vocals goes to the forefront of the musical fairy tale, fascinating musical support with the mid-tempo battle march, ascending the greatness of vocal phrases. But sometimes the musical bridges explode with a frantic drive, combining an epic saga with a musical thriller. And again guitar solo fonds in the realm of dreams with melodism.
The Holocaust of Stars song captures by its sound, combining the progressive complexity of music passages with rhythm variations and tempo and sparkling vocal emotionality, topped with notes of the guitar solo. The fascinating musical fairy tale envelops the interference of the oblivion of forgotten fairy tales, combining power, drive and the melody in a single musical stream of The Sepulchral Depths track. The Dehumanized Legion composition completes the album, developing vocal variations with harsh and screaming, starting, as if confessing a repentant demon.