May 22, 2016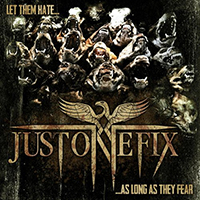 Just One Fix - Let Them Hate ... So Long As They Fear , - think tribunes, consuls...and Emperor about all of them!
"Morituri te salutant!", - tell Gladiator, came out under the marching rhythm to the sand of Arena. After these words, the battle erupted with fire of unprecedented and unjustified rage, dragged down briefly - opponents are looking at each other. Then again converge in a fierce battle.
Proxy God bore down on us with their unshakable force of various rhythms, causing a shudder to the heart because of its guitar violance and uncontrollably of its sounds. The proximity of God ethereal - do not deny that! Blood as oil, breath thy gas - if the same God you trust!
The rugged rhythm melody opens Metalmorphisis for further transformation, slowly and confidently, accurately and as if driving a word in the processed material, vocalist predicts a technology of that Alchemy!
Surely and carefully Succubitch prepares herself for ususal activity. Calm deliberative narration goes forward 'till the accumulated emotions boil over the edge! Next confesion take part of the song with the honest pray.
Rhythm breaks down at the end of every tact with a fill, Sons Of Cain do not have such a number of Abels. Suffering from a lack of victims required for the usual cases lead to frustration, nerves and rhythm, breaks off a fill. When Cain calms its annoyed offspring, instrumental sounds, admired their sublimity and guitar whimsicality.
Melodical riff starts legendary tale about City Of The Damned. Then furious guitars rushes forward to support joined growl with its might and rage. But growl sings chorus slow, rolling and confident - City of the Damned doesn't tolerate hustle as well! This tale ends by mysterious mystical instrumental passage.
Crushed Beyond Reckoning somtimes happens that someone is unable or ategorically doesn't wish to reckoning. So crush'im beyond! Argh!
Lyrical, sensual and appealing to the spiritual impulse motive begins Frazetta Moon, that saga continues with a fierce battle, tearing all around into shreds. Then again, the chronicle is slow and calm down, to hear the voice of the spirit of ancient times and continues in the same poetic motif before the spirit appeals to the eternal wrath - then the instruments blows up in a violent gust of smash everything to pieces.