March 26, 2018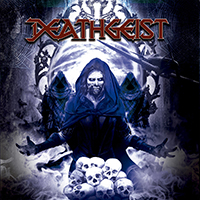 Grim mysterious ghosts chorus in combination with disturbing classical musical motifs combined in Intro cryptic precedes of Deathgeist - Deathgeist album's continuation.
Like this! Ordinary for this style of Thrash Metal Fire drive furiously and swiftly carried away in the traditional stream of violent sound.
The Day of No Tomorrow main motive circulates in a continuous dance around the vocal phrases, as if unclenching a tightly clamped spiral in violent zeal.
Captured by Hell continues this style, although the introduction seems to be bogged down in quicksand, but before the introduction of the vocals, he discards the shackles and is carried away with the vocals into an unrestrained race towards vague goals, rhythmically pulsating in the chorus.
Mysteriously untwisting an unknown spring of a musical motive, the vocal artistically and mysteriously creates alarming forebodings, accentuating the Ghost of Torture title in the chorus. Particular attention deserves a guitar solo in the instrumental part - it fascinates and captivates with incredible melodiousness.
A similar combination of violent drive in verses and chorus and dark romance in the guitar solo in the instrumental part occurs in Death Razor song, but the guitar solo begins with a melodic ballad, then takes off in a fast race anticipating the final part.
An energetic and rhythmic march rolls through detachments of dark punishers, driving their steps bloody tears into the torn earth. With the introduction of the vocals, the tempo of the composition is sharply accelerated, tearing away in an uncontrolled escape from the Mass Holocaust bloody wave.
In the whirlwind of dark and mysterious mystical extravaganza, the Where Evil Rules main motive brings an atmosphere of medieval fear, twisting different motifs of guitar solos and vocal revelations into a very worthy composition.
Mysticism becomes even more epic, raising ancient legends and epics in a fascinating sound of Witching Spirit song, connecting energy and drive with the mysterious mysteries of the long-standing prophecies and predictions.