March 27, 2018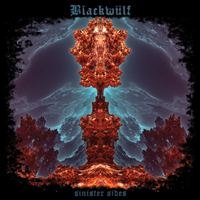 Diminished and leisurely Gate Of Sorrow begins the Blackwülf - Sinister Sides album, the vocal mysteriously and vaguely surrounds the invisible expanses of the vague outlines in the verse, the chorus grows in the chorus, splashing out the vocal experiences and musical sparks. Title track Sinister Sides continues the album, pumping the pace and enveloping the mysterious haze of vocal reflections and foggy guitar solos. In the instrumental bridge after the chorus, the music shrinks in unhurried meditations, enveloping the twilight cover with notes of blues, wrapping in a shawl of enchanting romance. But the wave of drive completes the composition with an energetic stream.
A gentle and thoughtful romance Waiting On Tomorrow envelops in waves of weightless contemplation, focusing on feelings and experiences.
The thoughtful and soft intriguing fog of the mysterious Dead To The World intro fascinates with a romantic haze, but before the introduction of the vocal music changes to the rolling march rhythmically changing, adjusting the pulsing style to the vocal phrases.
The blues motifs completely embrace the brooding romantic ballad Blind To Fate, enveloped in the hot haze of the southern winds, slowly narrating its history, occasionally sweeping the emotional background with vocal experiences. In the second part, the composition casts discouragement and energetically and rapidly develops, from time to time reflecting in slow guitar solos.
Slow and viscous The Tempest introduction changes to a pulsating mid-tempo thriller, from time to time returning to the style of the introduction.
Pulsing with notes of the Sunshine Of Your Love main motive the composition is vividly represented by a bright improvisation of the guitar solo, which unquestionably dominates the entire music.
Dark romance Battle Line envelops the emotional phrases of the vocal with a whirlwind of violent fog, hovering around obscure misty images, sometimes sweeping the flash of emotions with a nervous phrase, crowned with a bright guitar solo. Such a bright and charming composition completes the album.