July 07, 2017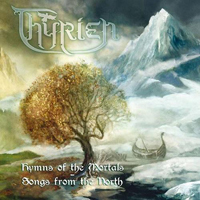 The howling wind, the dreamy and romantic organ saga create Far Beyond Midgard becoming an introduction for the album Thyrien - Hymns Of The Mortals - Songs From The North and Vengeance Through My Soul, that combines folklore motifs, violent screaming and grousing vocals and driving instrumental passages with a symphonic musical image.
The northern ancient motif circulates in frosty winds and snowstorms, dancing at the forefront in the role of the Deathwish main motive.
Hunting horn sets fun, the company has fun in a tavern by the fireplace, singing its own My Victory, My Defeat for all around in the chime of mugs with ale and ringing of wine glasses. In the instrumental part, a guitar solo imposes an impression of hoppy fun. After that, growling and screaming starts so unrestrained discussion.
A solemn, proud romance embodies The Frozen North for all who have not gone through the haze of snowstorms and flashes of the northern lights.
Leitmotif of The Eternal Journey from the very beginning gracefully sparkles in the rays of the frosty sun, capturing transparent clear frosty air, snow fog and icy breath.
The grandiose, significant Forest Is My Throne introduction turns into an adamant, changeable and impetuous drive, combining vocal discussions and tough instrumental impulses.
Rapid rushes, hard and hasty drive demonstrate what will be if Nature's Rage sets for everyone around.
Orchestral passages indicate what will be the leitmotif When the Horizon Burns, sparkling with solemnity and shimmering with pulsating sounding. After the instrumental part, a deep growling comes to the fore, then replaces with pacified screaming and bright flashes of instrumental frills.
Tinasormus (Janne Hurme Cover) completes the album, in a dispute of growling and screaming in Finnish, identifying romance and aurora borealis.