July 08, 2017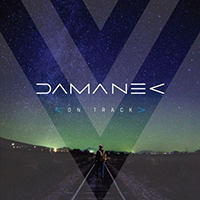 Elements of jazz, operetta and many other styles have combined in Damanek - On Track as single entity, one-piece monolith and spiritually inspiring.
Oriental motifs, tapping tambourines and hot winds bring the spirit of the desert in Nanabohzo And The Rainbow, enveloping the heat and pampered with fatigue, creating a flickering haze of imaginary images.
Vocals and bright keyboards create an atmosphere of thoughtful romance through Long Time, Shadow Falls, dancing in bridges under the bright trills of a mystical flute. Chorus and subsequent instrumental improvisation are encouraging and give impetus to bright, exciting inspiration. In the instrumental part, the solemn majestic melody creates a tempting image of the delightful palace, while guitar solo and playful keyboard passages return to everyday reality, supplementing it with playful dreaminess.
The Cosmic Score сomplements the album with folklore motifs, as if telling a fairy tale. Tender and soft stories envelop the atmosphere of memories of their native places, warm nights with a clear sky, covering the earth with a sparkling coverlet of stars. The instrumental part is decorated with the saxophone solo, brightly improvising at the starry night.
So fascinating ballad Believer-Redeemer in a calm, soft and seductive atmosphere of a delightful lounge style alternates instrumental solos with pensive vocals reflections.
Romantic ballad Oil Over Arabia envelops in soft winds and carries it into the tropical heat, in a soft and tactful whisper, narrating that there were often wars among this desert. Then the music accelerates the pace in the bridge between the verses. Saxophone breaks, guitar and keyboards motifs raises over the vocal phrases in bright amazing passages.
Playful and entertaining composition Big Parade takes us to Broadway, giving the atmosphere of plays and the spillovers of a fascinating holiday The charm of Madison Blue romantic ballad creates so gentle, pleasant melody created by measured keyboards and guitar ideas and a bright, sparkling flute melody enveloping the vocal reflections with tender and inspiring atmosphere.
Dark Sune Completes the album in a cautious, reserved and meditative manner. Vocal reflections gently and carefully enveloped in restrained and soft instrumental passages. After such calm intro in the instrumental part, music rises to higher levels of saturation. But the keyboards in the sound of the organ soothe the nervousness of instrumental freedom, supplementing the composition with symphonism elements and returning the style of the introduction, thus completing the composition and the album as a whole.