March 08, 2023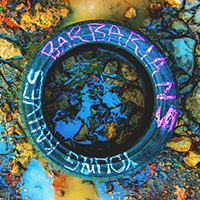 The electronic musical impulses of the introduction pave the way for further vocal proclamations, leading along the path indicated in the rapid flight of the Swarm, continuing then the The Young Knives - Barbarians album with pensive doubts and wise reflections of the Society For Cutting Up Men composition, in the sound of which vocal reflections are intertwined in a fascinating dance with musical passages. Mysterious vocal conjectures slowly march through the shroud of the haze of the musical mystery of the Jenny Haniver song's story.
The vocal narrative comes to the forefront of the mysterious Red Cherries musical tale, combining vocal dreams with mysterious musical echoes, continuing the musical twilight mystery in the sound of the I Am Awake composition.
Children's chorales weave the Holy Name '68 musical lace, which is the introduction to the title track of the Barbarians album. Then the vocal part begins with distorted phrases the musical story of the Sheep Tick futuristic composition, combining echoes of the style of the 60s with a modern interpretation of musical memories, continuing modern interpretations in the sound of the Only A God spiritual anthem. The encouraging and inspired playfulness of the What I Saw composition concludes the album's musical narrative.