March 09, 2023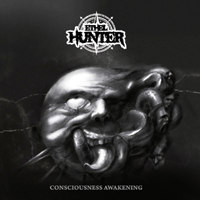 The rhythmic and persistent drive comes in with an assertive escalation of musical severity, opening with the sound of the Darkest Cult composition the musical gates for the procession of musical variations of the Ethel Hunter - Consciousness Awakening album, continuing its procession with the sound of the Ignoble Redemption battle march, in which the valor and bravery of the warriors honors the bright and artistic guitar solo of the instrumental part, followed by the continuation of the musical profession after a flash of vocals anger. The By Nightfall composition continues to honor the military prowess by bringing notes of a bardic fairy tale and an epic saga to the musical procession.
Rhythmic musical passages pave the way for vocals narration, rolling out the musical canvas before the Relentless Hunt tale of the wise storyteller, behind which begins a furious explosion of the harsh Deep Down Inside musical procession, sometimes exploding with flashes of vocals anger and whirlwinds of guitar solos.
After the guitar solo of the introduction, the music returns to the persistent and confident step of the Flesh Blood Quench Your Hunger rhythmic music march. Furious accentuates the fighting mood, which then sustains the vocal fury of the Near the Light song, drawing musical passages to follow the vocals phrases.
The guitar solo of the introduction fascinates with intiguous mystery, then weaving the musical lace of the Ceaseless Pain main motif, which then envelops the vocal narrative. The pressure of musical drive irresistibly paves the way for the Twilight Darkness musical fairy tale followed by the rhythmic step of the battle march of the Nomade final composition of the album.