September 15, 2021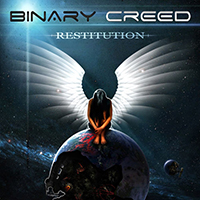 Pensive guitar solo sets the sound of the Dominion intro, then guitar riffs are somewhat accelerated before the entry of vocals, which begin the vocal party by male vocals in the verses, complementing the female vocal in the chorus. Futuristic keyboard impulses expand the stylistic framework of the Binary Creed - Restitution album, then rolling the waves of the How Many Tears mid-tempo march, crowned with symphony keyboards. The Anonymity romantic ballad composes the sound on the basis of the vocal narration, complementing it with a soft choir keyboard.
The keyboard symphony creates an intro, then becomes an inherent part of the Leave The World Behind main motive. But in the sound of the Freedom song on the forefront of the musical image, guitar riffs protrude, leaving the role of background support for the keyboards.
The sound of the Turn To The Cross composition makes an impression and captures unsurpassed unity of music and vocals in musical lace. The Leave The Lie displays the vocal batch on the front of the sound, supporting the vocal phrases of the female vocal with symphonic variations with the influence of the eastern motives.
Acoustic guitar solo Interlude acts as entry to the final part of the album, continuing inspired vocal phrases with the My Choice support of musical variations. Acoustic guitar solo, complemented by romantic headings of a singing lady, completes the album with the Welcome Joy tender ballad.