July 04, 2017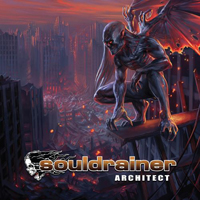 Drive, full of energy and power combines in Biological Experiments and Behind The Face rage, aggression and charming melodies, starting the album Souldrainer - Architect in an average tempo, sometimes exploding with bright breaks and charming melodies. At first track the vocals are furious, demanding and indignant, but in choruses it rises to the light of hope, at second Shadow Symphony of basic motif dominates over the vocal phrases.
Title track Architect starts as epic symphonic saga, combines hard instrumental toughnes with the bacground chorals of fairy spirits. Then the vocal proudly, persistently and confidently adds shades of its sound to this charming musical image.
The epic sound of the title track continues into the introduction and the rest of The Release structure, brave valiant banner among the procession of musical motifs accompanying a detachment of vocal words in their hard path.
Passes of classical musical decisions are combined with violent impulses of the rhythm section, then turning into a glorious, tough and unbreakable saga Die Or Surrender. In the instrumental part, the ideas of entry are developed to a new level, not leaving indifferent not metalheads, nor adherents of classical music.
The restrained, unhurried pulsating rhythm gives to Turn Your Back some romanticism, however, without becoming like ballad - but circling in a medium-pace dance, enveloping the whirlwinds of a powerful but bright and sparkling drive.
Like an ancient bardic saga comes from the past, turning into a touching, but powerful and confident tale For No Other. In this remarkable history, unforgettable medieval motifs and energetic modern performances have combined unite! Beginning in mysterious twilight and unpredictable musical fog, Nightmare Abduction unites in the mid-tempo composition power, rage and melody - not extolling anything, but leaving them and the mysterious atmosphere with different colleagues in this musical image. Vocals unites in their phrases pure, screaming and growling - like a single stream, combining the shades of their particulars.
A furious, threshing and explosive rhythmic drive is combined with deep, commanding vocal phrases, hardening I Am The One to all around. Such tough power can not be opposed, there's no way to resist its possession!<> Ancient northern motifs have embodied in significant, epic saga Sorgestjaerna, performed in Swedish, crowning the album, in my opinion, as the best its composition.