July 05, 2017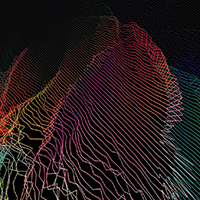 Combining gloomy, muffled vocals at the beginning and disturbing, mysterious motives Vertigo unites anxiety, anticipation of danger and alertness in it sound and the whole Hundredth - Rare album.
Neurotic continues the style of the previous composition, supplementing the sound with power to the introduction and increasing the emotionality of the vocal phrases, supplementing them with female back-vocals.
A familiar melody, as if rising from the depths of consciousness, pierces White Squall song as blade of the leitmotif. The vocal part smoothes and envelops this melody with a fog of understatement.
The clear, tough and confident rhythmic story Hole complements the album with drive and perseverance - but adds the romantics in the bridges and the chorus.
Anxiety envelops with the gloomy melodies of the Suffer main motive, imposing a premonition on the structure of the ragged rhythm.
Shock, making a tough and furious attack, comes to the Disarray fore, the guitars complements this drive with gloomy and mysterious melodies.
In the introduction and verse Down appears as mysterious ballad, but the rhythm carries in the chorus in an alarming mid-tempo style, although the vocals continue the romantically dreamings.
Grey again approaching to the ballad style, muffled and restrainedly presented with reflections and forebodings in the gloomy fog of reflection.
Continuing these depressive thoughts, Shy Vein vocals wanders in the impenetrable and dense fog over which sparkling bursts of guitar ideas.
The rapid, unrestrained Chandelier drive is encouraging, gives impetus to change - although the vocals still remain as frustrated and nervous.
The spirit of Youth, the desire for change and the cognition of everything that can only be achieved ... once unattainable - so change yourself and try to get chance to test - embodies that song, combining instrumental hope and vocal cautions.
The title Departure already means that it the last one standing. Beginning with soft, impressive and cautious guitar notes, he completes the album in his inherent stylistics, raising hopeful bursts of guitar frills over muffled depression.