July 29, 2016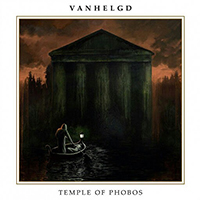 Worshipers of the thunder god, Zeus - you will burn in the fire of hate! Vanhelgd - Temple Of Phobos sacrifice to the son of the god of war, god of fear - Phobos!
Darkness surrounds from all sides, from the dark shelters heard Lamentation of the Mortals. Obsessive stubborn riffs, that make up the leitmotiv, permeate canvas of entire composition, slowing down in the middle, for more impressive and thoughtful vocals.
Dense and gloomy guitar riffs continue to recreate the atmosphere of darkness and despair, guitar solo in the entry pop up to the fore. Next Rebellion of the Iniquitous - thoughtfully strongly and consciously - the participants of the rebellion have to sacrifice themselves for the grace of the common cause.
Slowly, stealthily sneaks Den Klentrognes Klagan by its hard way. Mysterious, melancholic ballad in which the melodic palette complement with dreamy notes of female vocals. Keyboard passages give an exalted tone to that composition.
The title track og thy album, the Temple of Phobos creates an exciting atmosphere, slowly enveloping with a discreet sense of fear from all sides. In the midst of the composition we can hear - how crowd of adherents in the temple, dedicated to him, repeats the name of their God, honoring him by the prayer - Phobos! Phobos!
The guitar solo begins saga with its brilliant glow, Gravens Lovseng turns into a liricaly blessed and sad melancholic ballad, pierced by leitmotif - it seems like sharp rapier spikes loving heart by jealousy and doubts.
The oppressive atmosphere continues to thicken, without giving the slightest hope that will be scattered. That signs for the Rejoice in Apathy because there's no any other way - the pace tightening its path in the middle of the track, but returns to the hopelessness and apathy in the next verse.
"All Hope is the Past", - tells us the last song of the whole album Allt Hopp ar Forbi. The gloomy, lyrical ballad, walks with deliberately slow pace, even slightest shade of guitars, instrumental accompaniment and growls will not escape our attention. Invisible and elusive lady helps him from time to time.