July 06, 2020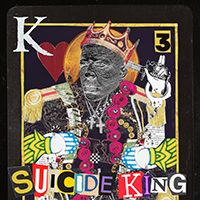 The obscure whispering continues with the ritual songs of the shaman and the mysterious narration of the invisible sorcerer, then anticipating the explosion of drive with a fierce recitative by the Heartbeats tunes of adherents. The Braveheart continues the album with a mid-tempo procession, encircling emotional KING 810 - Suicide King vocals phrases with an epic anthem. The epic melody continues into the sound of Bang Guns song, accenting the phrase with pulsating rhythmic phrases, then completing the composing with the gentle tunes of the singing lady in the sublime piano accompaniment.
The sermon of the confident rich man continues with the thoughts of A Million Dollars pensive ballad, sometimes hardening the vocal narration in distressed emotions, but dispelling the darkness with desperate thoughts of clean vocals. The mysterious .45 introduction ends with a union of thoughtful vocal recitatives with the artistic keyboard covers of a mysterious musical narrative. Crowned with equally artistic keyboard passages, the What's Gotten Into Me romantic ballad preserving the shades of rap vocals continues the sound of the album.
As if scattering the differences of ages Black Rifle combines modern sound and lyrics with the style of the lounge music of the 30s of the last century. Combining emotional vocal phrases with a blurred haze of musical mystery the God Is Watching brings echoes of intrigue. The leisurely pensive Wade in the Water ballad brings soul music influence to the album. The Sing Me to Sleep concludes the album with a soothing lullaby.