April 14, 2022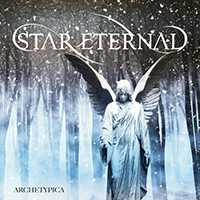 The music creates a symphonic basis for the vocal narrative embodied in the sound of the Archetypica song, opening the musical gates of the Star Eternal - Archetypica album, combining and embodying its diversity and captivating in the continuation of the musical journey through the expanses of A Perfect Storm musical saga with shades of a battle march and an epic fairy tale, rolling out similar musical shades in the musical canvas of The Iron Curtain musical story in an even more sparkling and exciting musical sound and vocal diversity.
After preparing the introduction, the Critical Impasse song brings the vocal part to the forefront of the musical image, continuing a similar style in the sound of the Stringers composition, adhering to the direction of the leitmotif set in the introduction.
Children's voices foreshadow the development of the sound of the Taken composition, then complementing its development with unexpected musical and vocal fragments. The Sign Out song rolls out the musical canvas with intriguing reverie, evoking the symphonic artistry of musical variations.
Swiftly and hurriedly, the Glory of the World composition combines tempo, drive and melody in sound, wrapping the vocal narrative with sparkling ribbons of melodic charm anticipating the completion of the album with the Eta Carinae epic saga.