May 19, 2016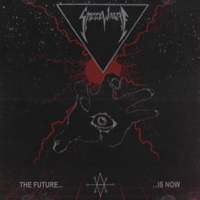 Intro Requiem Mass starts by the mystic tones and mysterious voice Speedwhore - The Future Is Now album.
Started by hard blow, The Call begins with the harsh cries, that nervously overlays fast and furious music with their emotional sound.
Started by the crushing'n'powerful riffs, Grand War continue its way to overlord all around, slowed down its pace after the chorus to progressively win further battles.
Gears spinning slowly, steadily in intro of the The Machine. Next part rise the tempo much faster and powerfuly - mechanism is gaining momentum!Next part rise the tempo much faster and powerful - mechanism is gaining momentum! In the middle furious fairy guitar solo enchant all the toolboxes with its fantastic melodic tune.
Fabulous scientists under Secret Science bewitching sounds explore the world using science, technology, fairy tales, magic, witchcraft, necromancy, and a bunch of both scientific and occult.
Hard harsh intro of the Too Late To Pray continued by nervous emotional harsh vocals, which explains - there's no use to pray... so priests - GO AWAY!
The living, active guitar intro ends with a heart-rending cry in the Camp 44. Oh, that camp has no use hor the correct boyscouts, as well!
Thorned start, with drive in riffs opens path for the Destiny explain to you the features, occasionally ending musical phrase by riff, hammered to your mind!
Dancing War Bastards paving the way, funny dancing, singing all path and crumbling out all their enemies!
Old-style heavy-metal riff opens Genetic Invasion for the future changes into hard and fast, but keep that riff like the leitmotif.
Title track opens with the guitar narration, The Future Is Now continued by fast and quick 'till the chorus, what tells us - "Future is now!" like the confession, deliberately and without hurries. Wither On The Vine melodic and fairy - by the dreaming guitars, the outro of that thrash passage.