August 09, 2019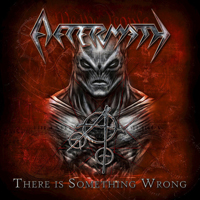 The vague noise and question Can You Feel It ? begins the musical expanses of the concept album Aftermath (USA) - There Is Something Wrong, continuing with a violent explosion of introduction False Flag Flying, then transformed by thoughtful reflections in a pulsating rhythm until the next drive explosion with the banner essence revelation.
The Diethanasia main motive rolls in waves of unbridled drive, the vocals are sometimes bursting with squeezed phrases of recitative, but then the cries of the crowd break off these words. The arguments and insults precedes the dancing motive of the Scientists And Priest intro, then the pulsating drive and torn phrases intertwine in the lace of the vocal phrases of the bridge, ending with jerky phrases of the verse. Distorted sounds ends with the speech of the leader of the riot and shots, then the sharp waves of the Smash Reset Control vocals phrases are complemented by bouncing notes of a guitar drive.
Reflections on the principles of the Gaslight work culminate in distorted reflections under the drum roll, which is then braided by a string of guitar solos. But then the progressive trends of the ragged rhythm completes the composition with a pulsating march. Conversations shares compositions, starting A Handful Of Dynamite with a narrative about the fundamentally incorrect functioning of the police and government, ending with vague and changeable variations of distorted and blurry conversations. Temptation Overthrown summarizes the reflections and phrases of the previous composition, after a rolling wave of drive repeating again and again "enemie now explodes".
Phrases about government problems ends with obscure psychological tests, wrapping them in a whirlwind of conversations and distorted phrases. But then the Pseudocide music breaks through the complex contours of psychological blocks, viscous passages marching visibly in the space of distorted sounds and conjectures. The title track There Is Something Wrong begins with a jerky recitative of vocal phrases, then the vocal signs priorities, following the changes in musical rhythm. Hysterical exclamations of mistrust and lies are woven into the Expulsion veil of doubt, completing the album.