August 09, 2019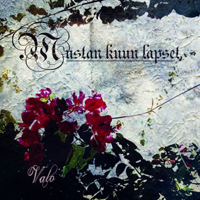 The chime of guitar strings and the orchestral symphony embody folklore motifs in so charming instrumental introduction, in which the Kuninkaan Uni vocals are manifested in deep and significant phrases of severe growling. The musical narration of the Eksyneet song pulsating and rolling in alarm continues the Mustan Kuun Lapset - Valo album, introducing alarming urges, doubting along with vocal screaming in the verse, interlacing scrimming with growling in the chorus. Ikaros continues the musical narrative, taking anxieties and worries to the background into foggy shadows, but they wander around with ghostly vortices, penetrating the atmosphere fanned by the trends of northern folklore.
An acoustic guitar solo begins the Kohti Valoa song with a bewitching romantic atmosphere, singing epic feats and ascending into the bewitching musical history of a bewitching ballad.
Starting with a dancing solo piano, then intertwining in a dance with acoustic chime of guitar strings, the Soidin composition ends with gloomy vocal additions. The bass guitar solo dominates the Nostalgia introduction, the guitar passages transform the sound into the main motive, crowned with brief keyboard additions. The introduction of vocals compacts the rhythmic pattern of the musical image and brings a bit of drive.
The twilight sighs of the symphonic mystery open the gates of Tropaeum composition, then the music weaves the epic lace of the musical extravaganza with vocals. The title track Valo completes the album - in terms of length and abundance of stylistic decisions and variations, it appears as if it were a separate piece of musical artwork.