February 14, 2022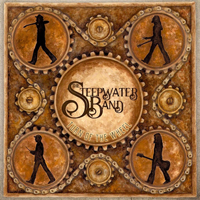 The title track begins the The Steepwater Band - Turn of the Wheel album's musical narrative, captivating with its melodic sound and accentuating the title again and again in the chorus. The intro guitar solo sets the main motif of the Trance song, pointing the way for the vocal phrases and musical variations.
The vocal part comes to the forefront of the Running from the Storm musical image, ending the musical bars with an accented guitar solo, continuing the vocal dominance with the somewhat more pensive and mysterious sound of the In the Dust Behind song.
The rhythmic march of the confident and significant That's Not the Way march is crowned by atmospheric keyboard passages that retreat before the pressure of the march of the Big Pictures and Please the Believer persistent and insistent mid-tempo tracks.
Especially noteworthy in the sound of the Lost on You song is the artistic guitar solo of the instrumental part, then the inspiring solemn procession of the rock'n'roll blessed Make It Right composition and the Abandon Ship epic saga and the album closing The Peace You're Looking For song.