February 14, 2022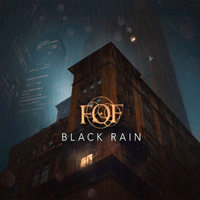 The sound of the vocal part of the Life In Towns song fascinates with artistic thoughtfulness and wise significance, anticipating the variety of romantic reflections of the Murderous Highland Highway composition, which preserves the atmosphere of romantic mystery.
The title track continues the sound of the Fish On Friday - Black Rain album with inspired vocal reflections and joyful mood of musical accompaniment, continuing the joyful vocal reflections in the musical narrative of the Mad At The World song, which anticipates the artistic sound of the Letting Go Of You composition, enchanting with the saxophone solo in the instrumental part.
The Angel Of Mercy romantic ballad charms with melodic and mysterious sounding, developing the similar style with some acceleration of tempo and echoes of cosmic motives in the sounding of the We've Come Undone song. The Morphine composition stays in the atmosphere of peaceful reverie and enchants with gentle sounding of the acoustic guitar solo.
The romantic mood unites in the We Choose To Be Happy musical celebration together with the vocal duo, continuing with the influence of spirituality and divine inspiration in the sound of the Trapped In Heaven song and concluding the album with the sound of the Diamonds romantic ballad.